Eight Ways Sustainable Bags Can Be Used To Promote Your Small Business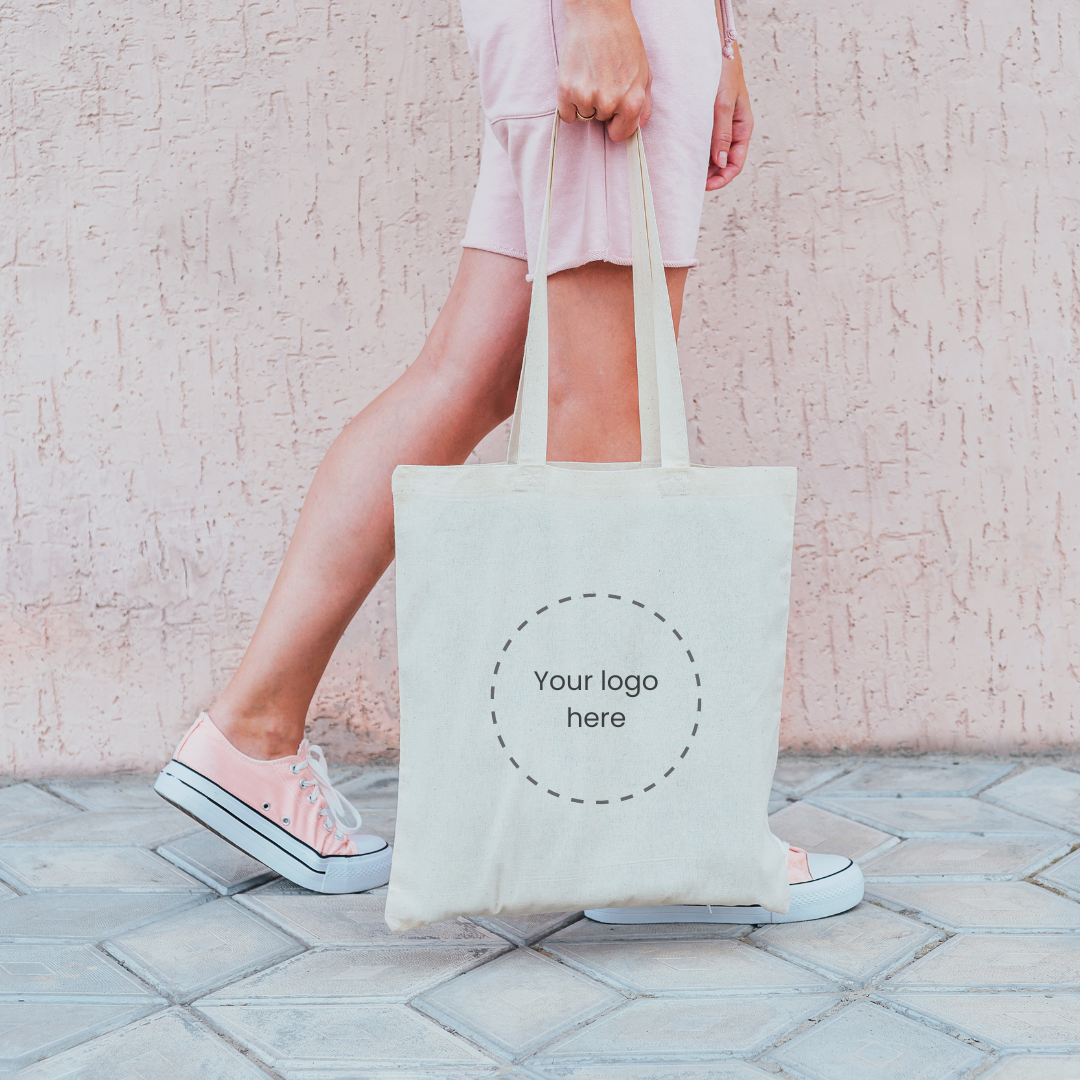 In a world where social media, email and online advertising dominates the marketing industry, the classic methods of promoting a business have become a secondary option even though they are just as effective and affordable.
One such example of this more old-school method of marketing are promotional products.
Promotional products are a particularly impactful marketing tool for small businesses that may not have the budget for costly Instagram campaigns on advertisements on Google.
There are a wide range of product types to choose from all of which can be custom-printed with your branding to create a piece of merchandise that will spread awareness of your business.
One of the most popular promotional products are sustainable bags. From custom-printed totes to reusable branded shoppers, sustainable bags are a brilliant way to increase brand visibility as they act as a walking billboard for whatever message you want to share.
They are also a multifunctional product that can serve many purposes as a promotional item for your business.
Distribute branded bags at events and exhibitions
One of the most common uses of branded bags is as a promotional tool that is distributed at events, trade shows and exhibitions. Businesses will typically fill a custom-printed bag with a few promotional goodies, such as printed notebooks and pens, and a brochure with more information about their brand, or a business card to encourage follow-up contact.

Promotional bags used in this way can generate over 3,000 unique impressions over the course of its lifespan. Not to mention it provides the end user with a practical product that they can use every day to replace harmful single-use plastic bags.

Use custom-printed bags as a corporate gift
Custom-printed bags make great gifts for your clients as a sign of appreciation for their loyalty and continued support. It may seem like a small gesture but this can go a long way in helping to retain clients and keep them happy.
They can even be gifted to employees when being onboarded or hitting a target.
Provide printed bags at the checkout
There is now a cost attached to plastic carrier bags which is why many businesses have made the shift towards more sustainable options, such as reusable bags made from eco-friendly materials.
When you then custom-print these bags with your branding and logo, you are creating a sustainable bag that both promotes your business and serves as a replacement for plastic bags.
It is even common for these bags to come at a small cost and many are willing to pay because they know they are receiving a quality product that can be used multiple times.
Offer promotional bags as a giveaway prize
It is common practice for businesses to run giveaways on social media to help boost their followers and increase brand visibility.
The most powerful giveaways are the ones that have quality prizes that people truly want and need, and a printed bag can be a great addition to this when included as part of a bundle of promotional prizes.
Branded bags are a great option for sustainable packaging
Plastic packaging is slowly being eradicated from businesses and the best alternative is eco-friendly branded bags.
Drawstring pouches can be used to store jewellery and candles, zipped pouches can be used to pack stationery or beauty products and jute bags make for great hampers.

This sustainable switch isn't just necessary for the planet but it also has the potential to improve the customer experience and leave them with a lasting impression.
Include custom-printed sustainable bags in your PR boxes
Small businesses can see massive benefits from sending out PR boxes to influencers, celebrities, journalists and notable people in their industry. But you should not only fill these packages with sample products and information about your business.
Additional gifts, such as custom-printed sustainable bags, are a simple way to advertise your brand and impress those receiving your PR box.
Add branded merchandise, such as sustainable bags, to your store
Sustainable bags are a promotional product with real value. They can range from more affordable cotton tote bags to premium canvas tote bags all of which can be added to your store as a retail product.
This can become especially effective when it aligns perfectly with your brand. For example, a swimwear company can create and sell beach bags or an activewear brand can add gym bags to their product range.
Printed bags make for a great gift with purchase
Last but by no means least, printed bags are not just a great corporate gift but they make a great gift for customers too.
A gift with purchase is a simple add-on product that comes free when a customer takes a certain action set by you. It usually serves the purpose of being an incentive for an increased spend or to buy a specific product. For example, a beauty brand may offer a cosmetic bag as a gift with purchase when customers spend over £60 or when they buy a particular item.
If you would like to explore the idea of creating promotional bags for your business then we have a huge collection of stock bags that can be custom-printed with your logo and artwork, including our hugely popular Bali Jute Shopping Bag which is great for supermarkets and checkouts.
We can also help you create a bespoke, sustainable bag for your business using your branding and guidelines.
Learn more about this service here