It all starts with reusable bags
We are Ecoduka®, the UK's leading supplier of reusable bags and eco-friendly products.
We stock over 2,000,000 reusable bags in the UK
Our company is built on strict values when it comes to sustainability because we believe in reducing our impact on the environment to protect the planet for future generations.
This is why our extensive range of reusable bags are all made from eco-friendly materials that are either organic, recycled, recyclable or reusable.
We want to encourage individuals and businesses to do good and go green with the switch from harmful, single-use plastic bags to sustainable reusable bags, many of which are completely plastic-free.
Fast Delivery

Plain bags in 2-3 working days

Secured Payments

Credit cards & Paypal
Eco-friendly materials for quality, sustainable bags
We have been producing eco-friendly and reusable bags since 2003, long before sustainability became the buzzword that it is today. We are now recognised as industry experts, providing you with the UK's largest wholesale collection of sustainable bags. Not only is our range of high-quality products versatile and durable, but we offer brilliant value for money with bulk discounts available on all of our reusable bags, excellent customer service from our team of specialist and fast delivery times.We are also a company that guarantees reliability and transparency so that you can shop on Ecoduka® with full confidence that you are investing in a truly eco-friendly brand.
We are very intentional when it comes to the materials used to create our reusable bags. Many of our shoppers are made from jute which is a durable, natural plant fibre whilst organic cotton is commonly used to create our classic promotional tote bags. We also have a collection of eco-friendly bags made from recycled plastic bottles (rPET) as well as large non-woven PP grocery bags and stylish canvas shoulder bags.
If the material enables us to make a hard-wearing product that will stand the test of time and it's carbon footprint is low, whether this is because of how it is sourced or disposed of, then we are happy to use it.
Take a look below at some of the brands we have partnered with in the past to create a sustainable, reusable bag for their retail or packaging needs.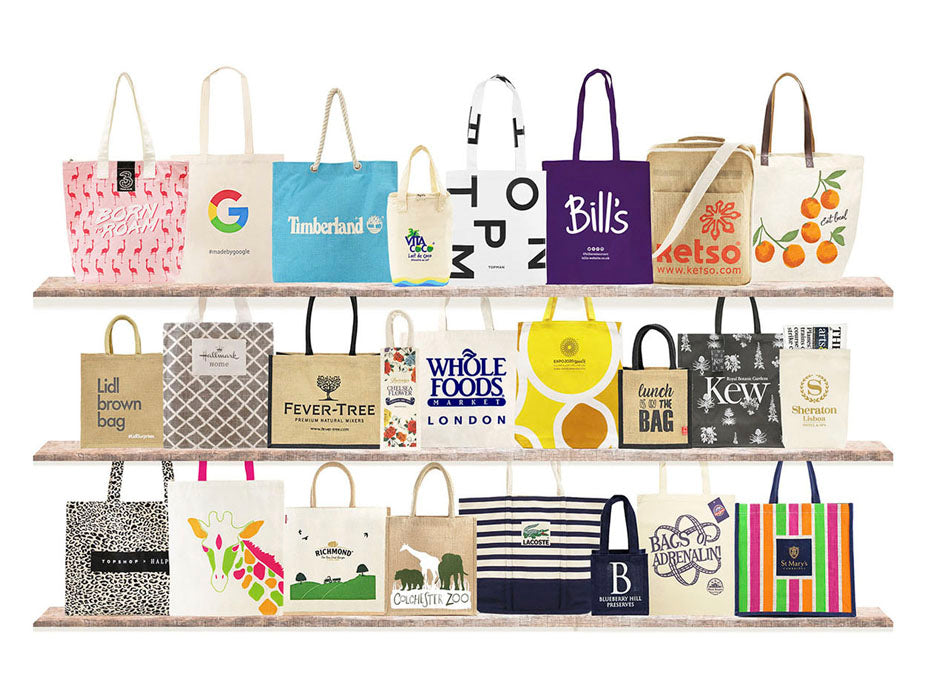 If you own a small business or work for a large brand, and you need branded merchandise for promotional purposes or packaging, then
our bespoke and printed reusable bags are the perfect solution.

Whether you're looking for customised cotton tote bags for an upcoming event or
printed coffee cups for your gift shop, we can help you create a truly unique
and impactful product that doesn't hurt the environment.
MORE INFORMATION
Reusable bags made ethically
All of our reusable bags are made from
ethically sourced materials
and produced in accredited factories to ensure we uphold strict social sustainability standards.
With offices in the UK and India we can ensure our products are checked at all stages of production, from material sourcing to final packing and dispatch.
Reusable shopping bags for green living
We can supply you with eco-friendly tote bags, plastic-free mesh bags and reusable shoppers to make your trips to the grocery store more sustainable. From organic cotton and canvas shopping bags to natural jute totes, we have a product fit for every purpose so that you can stroll down the supermarket aisles or roam the farmers' market with an eco-friendly grocery bag in hand. Our range of green products doesn't end there. We also stock reusable gift bags, drawstring pouches and cosmetic cases as well as reusable water bottles, coffee cups made from plant fibres and biodegradable straws.
What is the benefit of a reusable bag?
We champion reusable bags because they are much better for the environment than single-use alternatives. The plastic bags that we have become so accustomed to are hurting our planet because they are typically used only once and then discarded of which means that they quickly end up in a landfill or the ocean. Since plastic takes hundreds of years to decompose, these bags release an alarming amount of harmful emissions into the atmosphere as they sit in landfills.
When you switch to reusable bags made from natural, organic or recycled materials, you are reducing your carbon footprint and supporting a healthier system that keeps goods in circulation for as long as possible.
This is why we advocate for everyone to reduce, reuse and recycle.