Branded Products
Promotional merchandise that has been printed with your logo, company name or other bespoke artwork is a cost-effective and impactful marketing strategy that can be used to achieve many different things for your business. Its most common purpose is for giveaways at networking events, trade shows, exhibitions or on social media to help brands build a connection with their target audience and set themselves apart from competitors. However, promotional items can also be added to your line of products giving you an instant return on investment whilst increasing brand visibility, or as corporate gifts for employees and clients.
This is an excellent way of showing them your appreciation and building stronger relationships which could lead to reciprocation in the form of loyalty or recommendations. Branded products can even be part of gift packs or packaging to elevate your brand and enhance your customer experience. Our wide range of eco-friendly products are all brilliant options for branded merchandise no matter what purpose you need them to serve. They are available with bulk discounts and can be easily printed to help align with your branding and advertise a particular message.

Whether you need something fun that will leave a lasting impression or a product that is functional and will be put to good use, you are sure to find high-quality merchandise that will suit your requirements and your budget. We stock totes and shoppers made from cotton, jute and rPET, drawstring pouches in a range of sizes, canvas cosmetic bags, washable face masks, stainless steel water bottles and so much more!
Why your business should invest in sustainable branded merchandise
Though branded merchandise can have many different applications and benefits for your business, the sole purpose of promotional products is to drive awareness of your brand and build company recognition. With that in mind, people will associate your business with the branded products that they receive from you which is why it is important to consider quality, brand alignment and sustainability.
 When you create promotional merchandise that is eco-friendly and ethically-sourced, you are demonstrating that your business is
taking real action towards its corporate social responsibility. This creates a positive impression on your prospects, and the public, making your branded products even more impactful.

All our branded products are sustainable in that they are long-lasting and reusable, as well as being made from eco-friendly materials and under strict ethical codes. By investing in our sustainable merchandise, you are doing good for your business and the planet. From refillable water bottles and travel-friendly coffee cups to plastic-free shopping bags and reusable drawstring pouches, our wide range of stock offers you the chance to create truly sustainable and high-quality promotional gifts.
Find the right promotional products for your business
The most effective promotional merchandise is that which does two things well – provides your target audience with something of value whilst aligning with your branding or campaign. For example, a health and wellness brand could use our reusable water bottles to encourage people to drink more water or a skincare company could add their branding to our eco-friendly cosmetic bags to create a promotional gift to give away with their products. In both cases, the branded product suits the messaging and concept of the business so it creates cohesion which is always important when trying to build a strong brand identity.

It also provides the recipient with a promotional product that is practical which gives it more value and makes the customer, or client, far more likely to keep and use the item. We offer a wide range of functional promotional products that appeal to all audiences making it easy for you to find the right one for your business.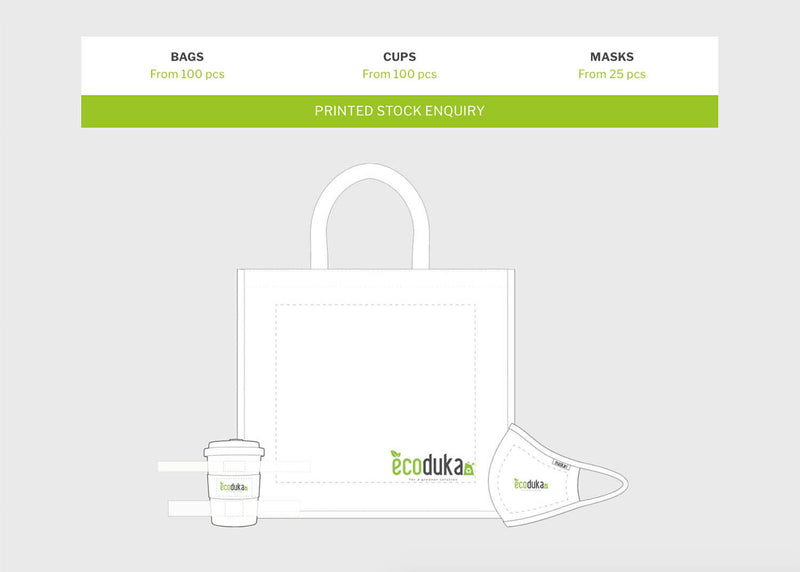 UK Printed Stock
Need something quickly?
Why not print your logo onto one of our stock products.

Screen or transfer print.
Print on one or two sides, within our UK print area.
Free visuals and proofing.
Lead time 5-10 Working Days.
PRINTED STOCK QUOTE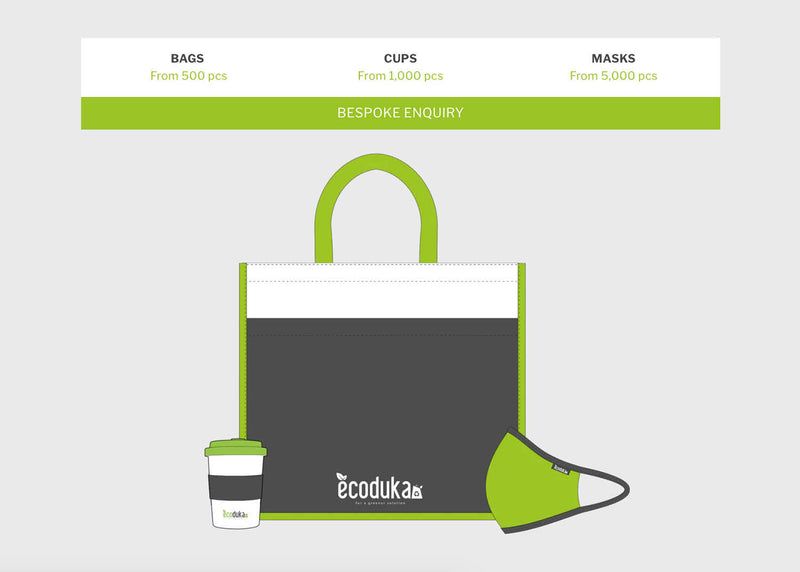 Fully Customised Product
Happy to wait for your perfect product?
Bespoke to your specification.

Choose your material, size and colour.
Print edge to edge.
Customised to your specification including Pantone dyed.
Lead Time from 6 Weeks.
BESPOKE STOCK QUOTE
Our best-selling promotional items
Not sure where to start when looking for promotional merchandise for your business? Our best selling products can offer you a little insight into what is popular amongst our clients so that you can get an idea as to what might work for you. Some of our best sellers include our cotton totes which are a classic choice for distributing at events, our travel-friendly coffee cups for corporate gifts, branded face masks as a uniform for hospitality workers and reusable gift bags for printed product packaging.
Enhance your brand with our eco-friendly promotional merchandise
At Ecoduka, we pride ourselves on delivering high-quality and dynamic promotional merchandise that prioritises sustainability at every stage. As one of the UK's largest and most beloved suppliers of eco-friendly promotional products, we have helped hundreds of clients across the country elevate their brand and increase visibility without costing the earth.
If you're looking for a custom product, our services extend beyond supplying plain and printed stock. We have inhouse team of experts who are available to assist you in designing bespoke sustainable merchandise so that you can create the perfect product for your needs.