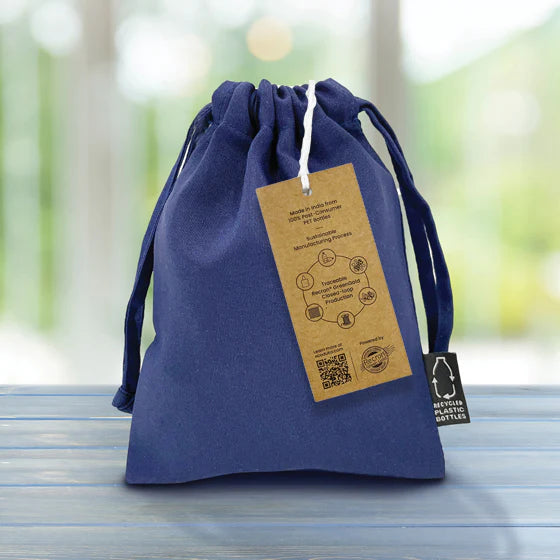 Recron® GreenGold: Packed with superior eco-credentials
Finding eco-friendly alternatives to harmful plastic and paper bags has never been easier as the world continues to shift towards more sustainable practices. But what happens when innovative technology and advanced manufacturing processes come together to create a bag that goes above and beyond when it comes to sustainability? You get our rPET bags made with Recron® GreenGold.
These bags have an extensive list of eco-credentials that set them apart from standard rPET bags. From being completely free of harmful chemicals and made with renewable energy to pproximately 90% of the water used in their production being recycled, our Recron® GreenGold recycled bags take sustainability to the next level without compromising on quality. The manufacturing process is also tracked using GreenGold tracers so that you can verify each bag has been made by Reliance Industries at one of their rPET conversion manufacturing plants. This means that you can have complete peace of mind when investing in, and using, these recycled bags.
View the Range
How our recycled bags are made using Recron® GreenGold
PET bottles are collected and transported to a recycling facility where they are they are ground up into small flakes, washed and dried
It is at this stage, during the polymer stream, that the GreenGold tracers are added
The flakes are then converted into string-like fibres by being chopped down into pellets, melted and stretched.Next, the fibres are spun together to create a yarn.
This yarn is then taken to our factories where it can be stitched or woven to create our Recron® GreenGold bags
Why Choose rPET Bags Made From Recron® GreenGold?
These rPET bags are the perfect solution to some of the key emerging consumer needs such as reducing our carbon footprint, doing good for the planet and extending the lifespan of materials.
Not only does Recron® GreenGold meet these sustainability standards from the raw material through to the production process but it provides consumers with forward and backward traceability through GreenGold tracers. These recycled bags will garner huge interest from a society that values transparency and it will elevate your brand for all the right reasons.
Quality matches that of a bag made with virgin fibres
Superior dyeing performance and enhanced hiteness
Approximately 90% of water used in production is recycled
Fully transparent and traceable manufacturing process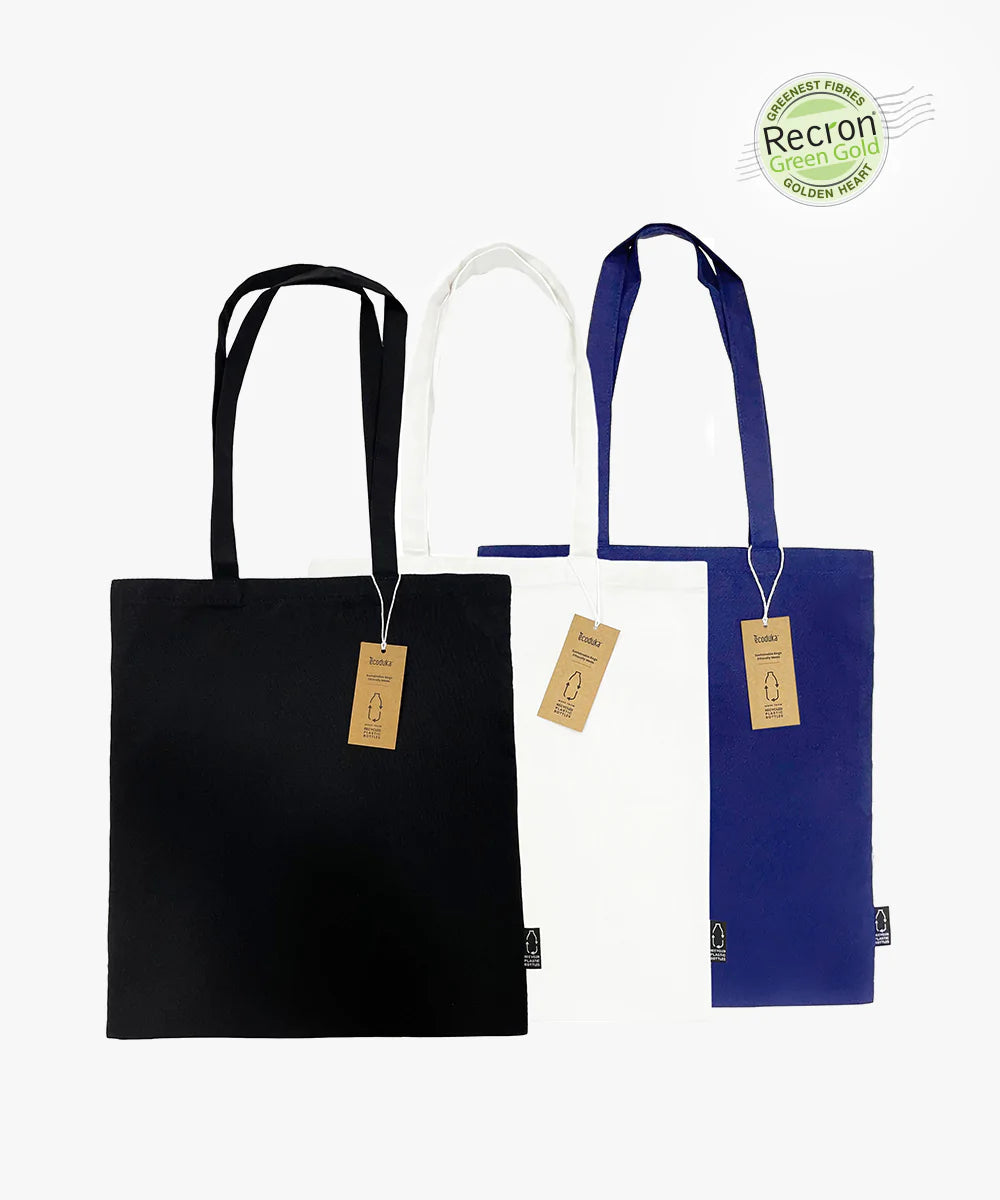 Abelia Recycled PET Recron® GreenGold Tote Bag
This classic tote bag is made from RPET and boasts many eco-credentials that make it the ultimate shopper for those looking to live more sustainably. It also has embedded tracers for complete visibility as to the manufacturing process.
View tote Bag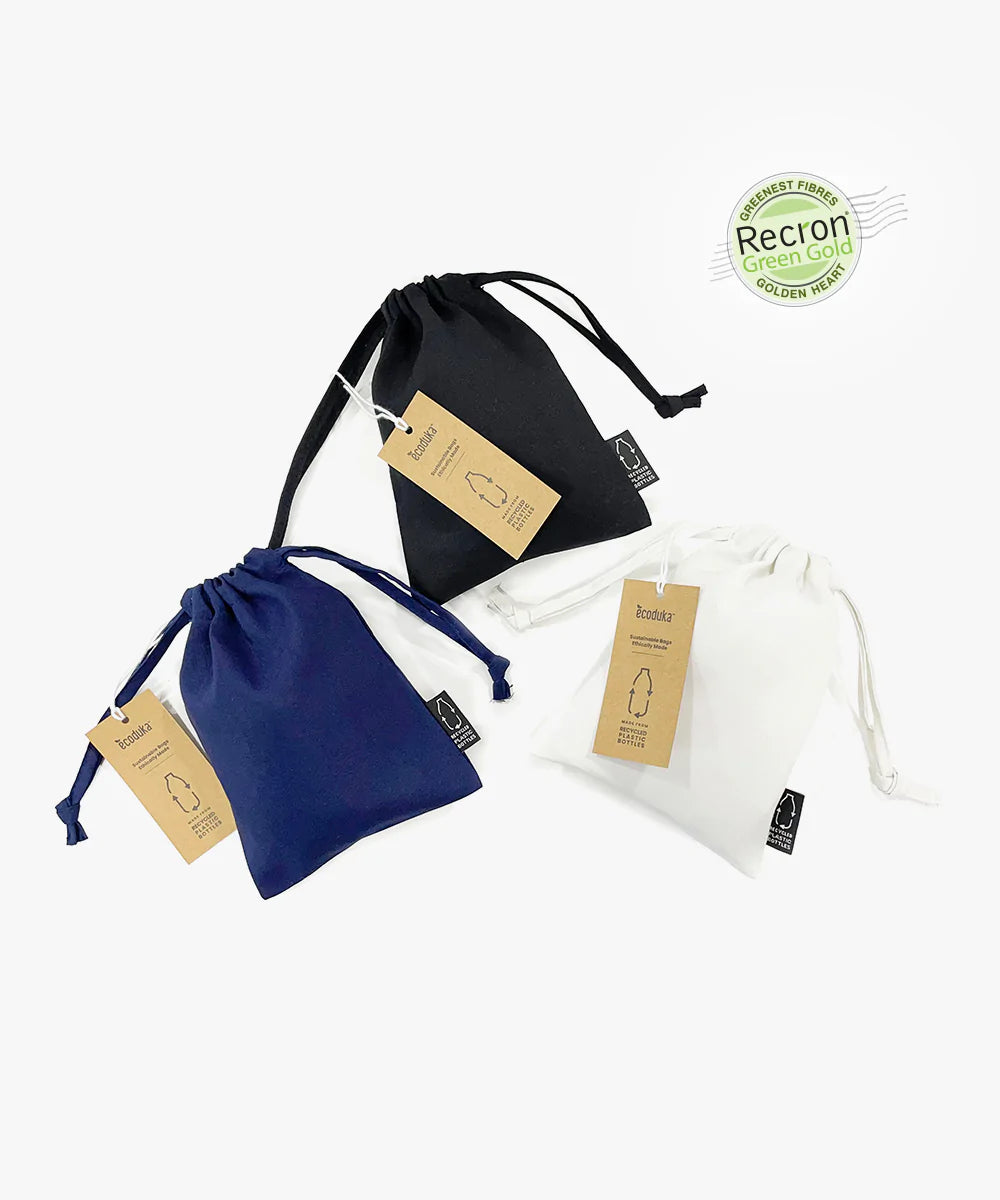 Acer Recycled PET Recron® GreenGold Drawstring Pouch
Our Acer RPET Pouch is an eco-friendly drawstring bag made from one recycled plastic bottle. Businesses can even add their branding to create a custom-printed pouch for product packaging or promotional products.
view rpet pouch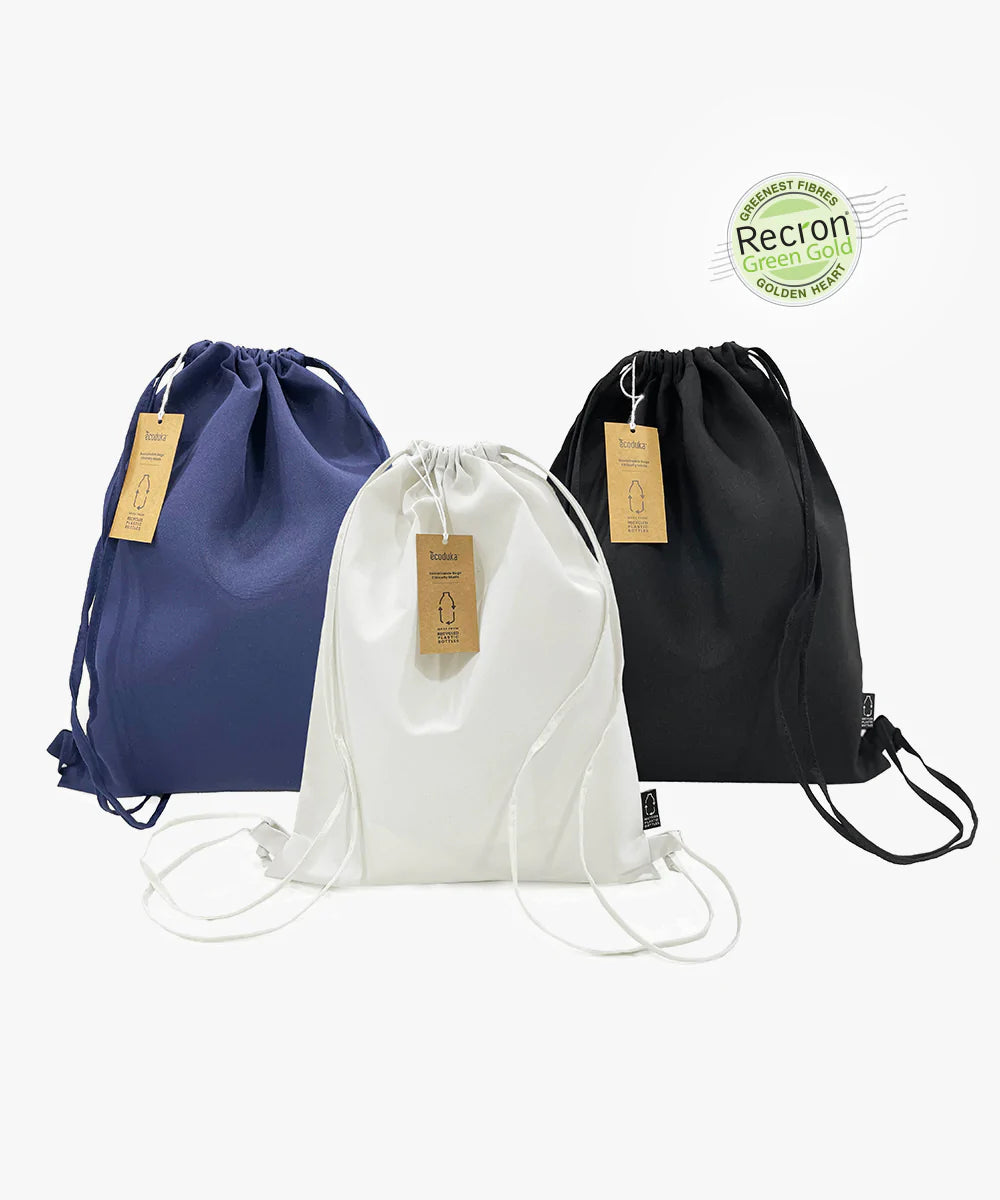 Amaryllis Recycled PET Recron® GreenGold Drawstring Bag
Our Amaryllis rPET bag is the perfect everyday drawstring bag for the gym, work and days out and it is made from FIVE recycled plastic bottles. Businesses can even add their branding to create a printed bag for promotional or retail purposes.
view drawstring bag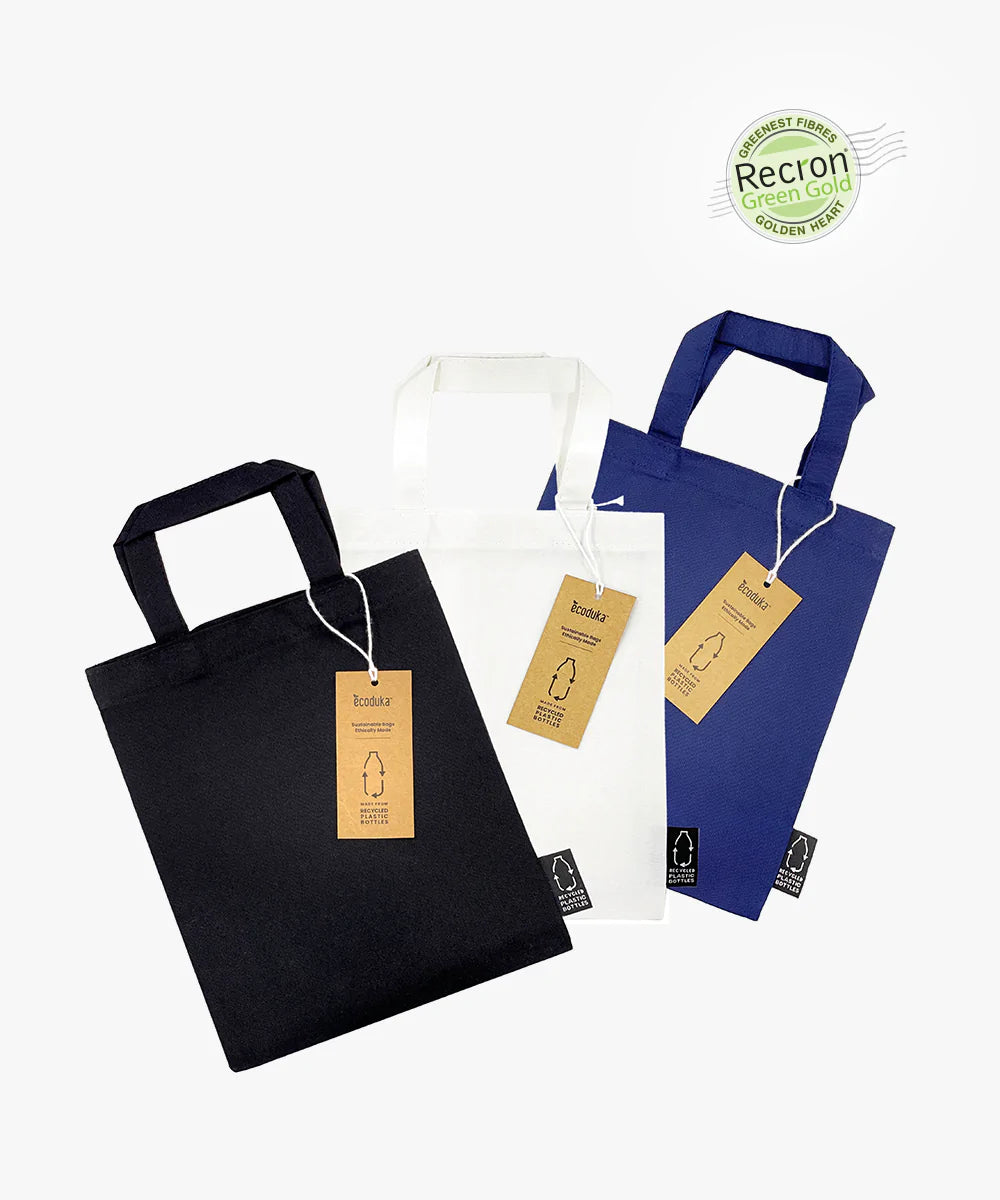 Rosa Recycled PET Recron® GreenGold Small Bag
Our Rosa Bag is a small reusable bag made from two recycled plastic bottles and the perfect sustainable option for gifting smaller products. It has embedded tracer technology so that you can see exactly where the bag was manufactured and have peace of mind that there is no greenwashing in sight.
View Bag
Did you know?
Reliance Industries Limited have a technology centre in India where 80 scientists and technologists harness the power of chemistry within the textile industry.

Alongside GreenGold tracers fabric, they have more than 28 patents registered.


What makes these rPET bags sustainable?
RPET fabric is made from 100% recycled PET bottles which keeps these plastic pollutants out of landfills and oceans and gives them new, useful life in the form of our Recron® GreenGold bags. It reduces waste by keeping materials in circulation for as long as possible.


UK Stock ~ Fast Delivery
Ecoduka hold large quantities of stock here in the UK which means that we can create and ship your order within a very short timescale.
No matter your requirements, we can deliver. Whether you need cotton bags or jute bags, small, medium or large, printed or plain.
Speak to the team
Plain or Printed Bags
Do you need custom bags for your business? Why not print your logo onto one of our Recron® GreenGold.
Screen or transfer print. Print on one or two sides, within our UK print area. Free visuals and proofing. Lead time 5-10 Working Days.
Printed Stock Enquiry
About the R|Elan™ Traceability Technology
Our Recron® GreenGold bags provide physical traceability through embedded tracers and digital traceability through blockchain (WIP) to provide transparency and increase consumer trust.These tracers are added at the polymer stream stage of the production process, before the fibres are made, and are used to verify where the GreenGold fabric has been made. We believe that it is important to be transparent when it comes to our supply chain so by giving consumers access to certifications on a secure tracking system, they can see that the material used to make their recycled bag has been manufactured by Reliance Industries. This verifies sustainability claims and builds trust between consumer and business.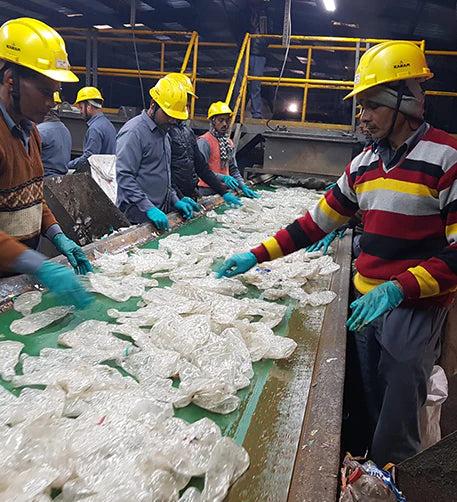 Frequently Asked Questions
How do I use the tracer technology?
Scan the QR code that can be found on the label of your bag and you will be sent to a landing page where you can find all the information on your bag
Can I wash recycled bags made using Recron® GreenGold?
Repeated washing will not impact the efficacy of the bag or the tracers
Are rPET bags made with Recron® GreenGold recyclable?
No, they are not recyclable; however, they can repurposed as cleaning rags at the end of life