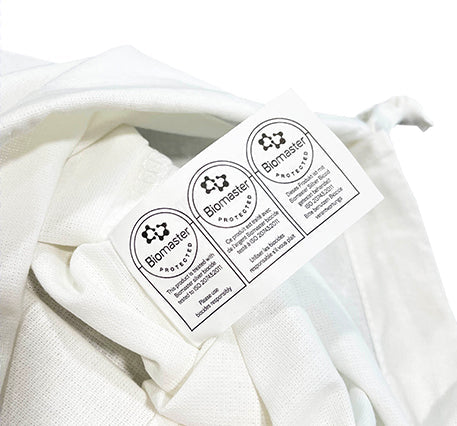 Antimicrobial Bags:
Shopping made safer
Did you know that harmful bacteria often found on raw meat packaging and in food residue can live on the surface of reusable bags for up to 8 weeks? In a UK study, nearly half of normal reusable bags fell into the 'heavily contaminated' category after they were found to have traces of E.Coli, Campylobacter and Salmonella - all of which can cause severe food poisoning.
Biomaster have developed an advanced antimicrobial technology that inhibits the growth of these dangerous microbes by more than 99%.
When incorporated into the fabric of reusable cotton bags, it leaves them cleaner, fresher, safer and more durable for longer. The added layer of protection that we have built into this collection gives shoppers peace of mind and a greater incentive to reuse their bags without the worry of stains, odours or harmful bacteria that may come from produce and perishable foods. With the recent increase in the single-use carrier bag tax, along with the public's heightened consciousness of spreading germs, reusable antimicrobial products are the future of shopping so get it in the bag with Ecoduka!
Read more
The World's First Biomaster Antimicrobial Cotton Bag
Biomaster Protected
A trusted additive from the UK's leading experts in antibacterial technology
Washable & Reusable
Can be washed without affecting the efficacy of the additive
Tested to ISO 20743
Tested to ensure it meets the quality standards set by ISO 20743:2013
Lifetime Protection
Durable and advanced protection that lasts for the useful lifetime of the bag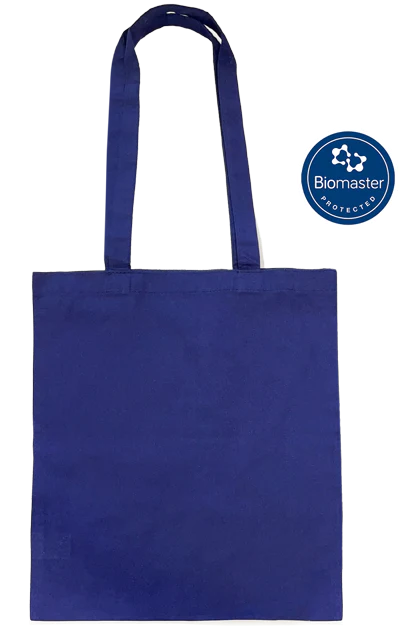 Antimicrobial Cotton Bags
Our antimicrobial cotton bags are available in different colours and sizes, all with
Biomaster Technology
. We can also custom print your company logo on our bags.
Antimicrobial Bags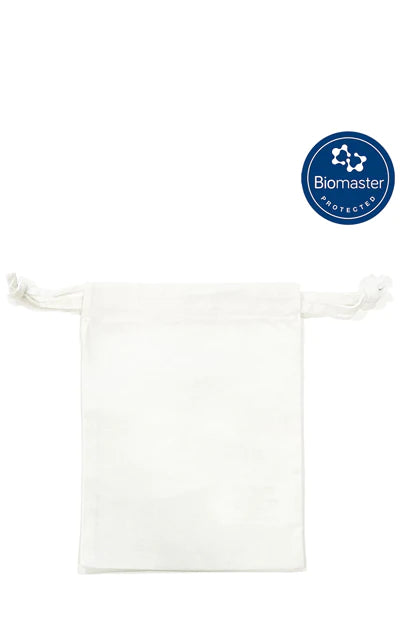 Antimicrobial Cotton Pouches
Our antimicrobial cotton pouches are ideal for everyday use, promotions, and gifts! Use to store groceries, produce, stationery and toiletries safely.
Antimicrobial Pouches
Why Choose Biomaster Protected Bags?
Antimicrobial bags are the way forward and Biomaster are the UK leaders in this technology. Their innovative additive will add value, enhance your product range and give you a genuine competitive edge. Not to mention the added protection
will extend the lifespan of the product resulting in less waste and further enticing the eco-conscious shoppers.  

Tested to ISO standards
Inhibits growth of microbes by up to 99.99% 
Reduces the risk of cross-contamination 
Protection that lasts for the lifetime of the product
Did you know?
Biomaster pioneered the use of antimicrobial additives, and remains the recognised leader and most trusted supplier of antimicrobial technology for polymers, textiles, paper, paints and coatings.

Just another reason to choose Biomaster protected products from Ecoduka.


How is Biomaster Added?
Unlike topical treatments, Biomaster is incorporated in the product not on it, providing durable product protection.
Download Brochure
UK Stock ~ Fast Delivery
Ecoduka hold large quantities of stock here in the UK, and so we can design and ship your order within a very short timescale.
Whatever your requirements we are guaranteed to be able to assist. Whether you need cotton bags or jute bags, small, medium or large, printed or plain.
Speak to the team
Did you know?
Do you need bags custom branded? Why not print your logo onto one of our antimicrobial bags or pouches. Screen or transfer print.
Print on one or two sides, within our UK print area. Free visuals and proofing. Lead time 5-10 Working Days.
Printed Stock Enquiry
About Biomaster Technology
Developed in conjunction with Addmaster, our range has the unique Biomaster additive incorporated into the fabric. Biomaster provides lasting antimicrobial protection, and in independent tests was found to inhibit the growth of harmful bacteria by more than 99%.

For added reassurance, the bag has been tested and can be washed up to 50 times without affecting the efficacy of the Biomaster additive.
Biomaster guarantees fast, effective antimicrobial protection for the effective lifetime of the product, helps to keep surfaces clean and hygienic and reduces the risk of cross-contamination. Add effective and trusted antibacterial protection to your product range by using Biomaster - the experts in antibacterial technology.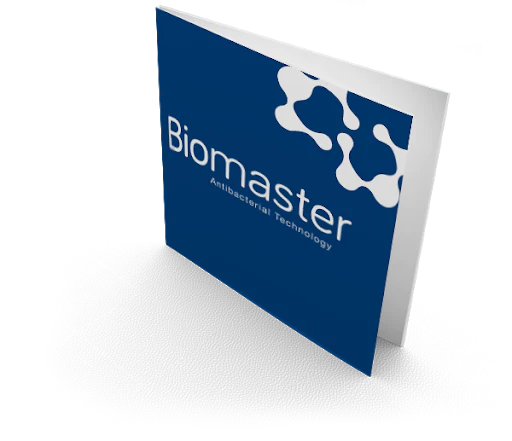 Frequently Asked Questions
Does Biomaster use nano-silver technology?
No. We don't use nano technology due to on going safety concerns.
Why is Biomaster better than other silver based antimicrobial additives?
Biomaster pioneered the use of antimicrobial additives, and remains the recognised leader and most trusted supplier of antimicrobial technology for polymers, textiles, paper, paints and coatings.
How do I know if a product is Biomaster protected?
Unless it carries the Biomaster symbol,you don't. Ask before you buy it.
How effective is biomaster?
Very. Biomaster is proven to inhibit the growth of microbes by up to 99.99%.
Is Biomaster Safe?
Yes. It is based on silver ion technology, recognised for centuries with no harmful effects. Biomaster is used in medical, food and water applications.
Can a Biomaster-treated polymer be recycled?
Yes, it can be recycled effectively without any complications.
What's the difference between antimicrobial and antibacterial?
An antimicrobial inhibits the growth of, or destroys harmful micro-organisms such as bacteria, fungi and moulds. An antibacterial specifically prevents the growth of bacteria.
Has Biomaster been tested?
Yes, repeatedly. Biomaster is tested to ISO standards.We also undertake on-going quality control tests and environmental trials.
How long is Biomaster effective for?
Biomaster is effective for the intended lifetime of the product it's added to. It is built-in and doesn't wear off or leach out.
Does Biomaster affect a product in any way?
No, You can't see, smell or even taste Biomaster
Is Biomaster effective against antibiotic-resistant bacteria?
Yes, Biomaster has been proven to be affective toantibiotic-resistant bacteria such as resistant Staphylococcus aureus (MRSA) and Vancomycin-resistant Enterococcus (VRE).