What's The Best Printing Technique For Your Custom Bag?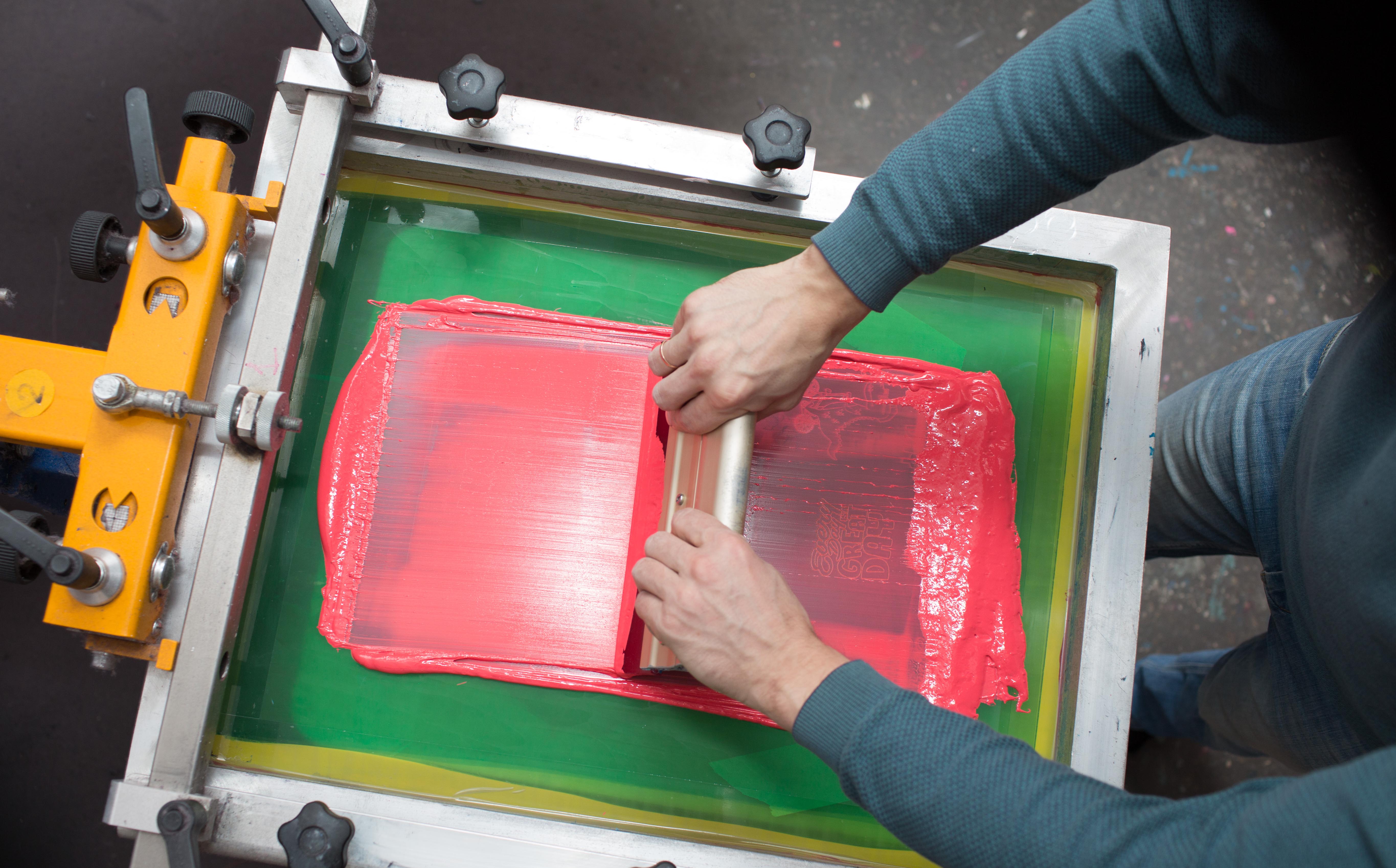 When it comes to making custom-printed bags for your business, it is important that you make the right decision in regards to the printing technique used for your artwork or logo.
Each method of printing offers different benefits, and drawbacks, and many are only suitable on certain types of materials so you may be limited in your choice depending on the type of bag that you are creating.
Before you get started, you should familiarise yourself with all of the options available so that you can make the right decision for your business.

We offer a professional design and printing service using any of the below techniques. You can learn more about it and get a quote here
Screen Printing
Screen printing (or silkscreen printing) is a popular, traditional printing technique.
The process involves transferring a stencilled design onto a flat surface using a mesh screen, ink and a squeegee. It's ideal when printing on textiles and is the go-to printing technique for bags and clothing.
We would recommend screen printing for:
Vivid colours, even on darker surfaces
Simpler logos and designs
Printing on cotton, jute and canvas
Achieving a hard-wearing finish
CMYK Printing
This method is a specific type of screen printing based on the combination of the 4 basic inks cyan, magenta, yellow and black. With CMYK printing, a full-colour print that enables exact Pantone colour matches can be achieved by using these four screens.
This is a slightly more expensive method of printing but it can be essential when a design requires specific colours.
We would recommend CMYK printing for:
Detailed and colourful designs
Achieving more accurate and consistent branding
White or lighter coloured fabrics
Flat or curved surfaces
Digital Printing
Digital printing is the most modern and cost-effective method. A digital-based image (PDF) is sent to the printer and a laser or inkjet is used to apply that image to a surface.
It's simple, fast and works really well on bags, kitchen textiles and clothing.
We would recommend digital printing for:
Quick turnaround times
Smaller quantity orders
Vibrant colours and complex designs
Flat or curved surfaces
Rotary Printing
One of the most commonly used print methods for fabrics is rotary printing which is a type of screen printing. 
Ink is pressed through mesh on a cylindrical screen onto fabric. It works on many different types of materials and is ideal for bags, clothing and kitchen textiles.
We would recommend rotary printing for:
Speed and efficiency
A wide range of options when it comes to designs
Complex designs
Printing on cotton, jute and canvas
Transfer Printing
Though it may be considered an old-school method, transfer printing is still a great option.
It uses a heat press to apply a design from paper onto another surface. There are endless possibilities when using this technique as there are no restrictions when it comes small, intricate details.
We would recommend transfer printing for:
A premium quality finish
No limitations with designs or colours
Printing on cotton and canvas
Embroidery
Embroidery is a well-known branding (not so much printing) technique that uses a needle and thread to stitch the artwork or pattern into a fabric giving it a more luxurious look.
Though it can be more time-consuming and costly than other methods, it adds a lot more value to the product itself so can be worth the investment.
We would recommend embroidery for:
A hard-wearing finish
A professional and premium look
Simpler logos and artwork designs
Cotton, jute and canvas bags only
Litho Printing
Litho printing (lithography) is a trusted classic where the artwork is etched onto an aluminium plate using a laser. This plate is covered in wet ink and then put onto the printing press which is made up of lots of rollers that the material goes through.
We would recommend litho printing for:
Large quantity orders
Large blocks of solid colours
Printing on cotton, jute and canvas

Tonal Printing
Tonal printing is a more subtle technique that is used to create a worn look. It uses water-based ink to create a hue that is lighter or darker than the fabric being printed on that makes it look aged. It's ideal when you want to achieve a very specific vintage feel on your textiles.
We would recommend tonal printing for:
Creating an impactful and stylish vintage look
Subtle and simple artwork
Printing on cotton, jute and canvas
Foil Printing
Foil printing adds a premium look to any product. It uses a pre-glued metallic foil and a heated die to press the design into the surface of the material. It works well for single colour artwork and can be used on a variety of materials but looks great on bags, notebooks and clothing.
We would recommend foil printing for:
A luxe and eye-catching look
Simple artwork with no colour variation
Printing on cotton
Glitter Printing
Glitter printing is a type of transfer printing that uses the glittering granules visible after print as part of the design. It's a great way to make a statement and can be used on virtually any material but it isn't the most durable printing method.
We would recommend glitter printing for:
Simple designs with a fun message
Adding to character to single colour artwork
Printing on cotton and canvas
If you would like to explore any of these printing methods for your sustainable, custom bags by using our professional bespoke and branding service, then click here to get started.